Safer journey
Unpicking the risks of doing almost anything
This is being written in an unusually optimistic mood. Last night a committee at my city council voted to retain pop-up cycle lanes - for the time being. There had been an aggressive campaign against them, largely because road space had been reallocated to bicycles.
The fiercest fight was about a main road which had been dominated by fast, heavy traffic for decades. Suddenly, with a pop-up bike lane, it's now much safer for cyclists. Here it is today: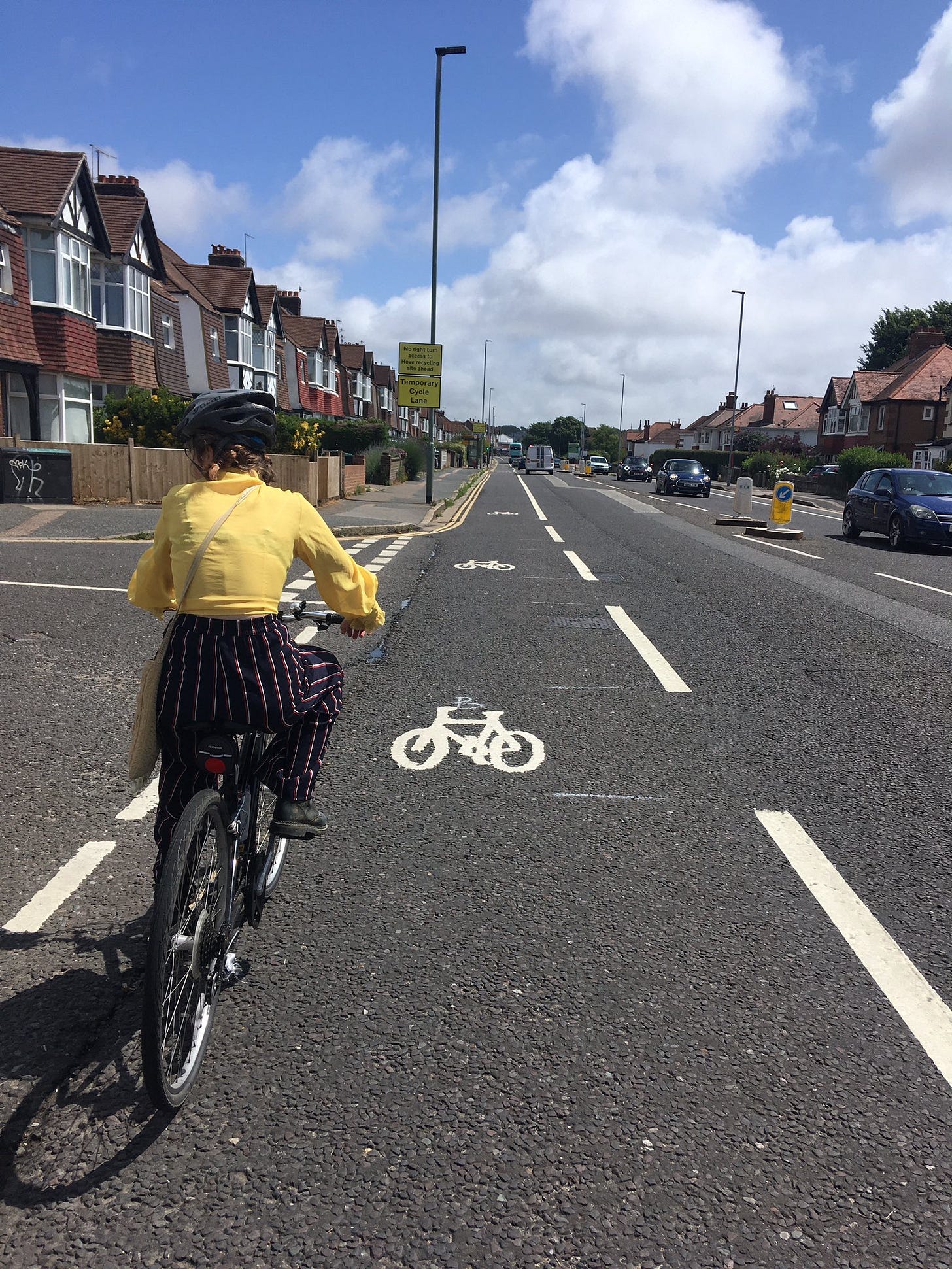 Mind you, it's so hard to know how risky any activity is. This has been demonstrated by Professor David Nutt.
You might have heard of him. He's an expert in psychopharmacology (how drugs affect the mind and behaviour) and he was an advisor to the UK government. His research into the impact of drugs across many activities hit a high in 2009.
His research happened to show that a recreational drug, MDMA, is less harmful than riding. To be clear, that's not bicycle riding, that's horse riding.
Nutt's conclusions seriously upset government ministers because they were very concerned about the illicit recreational drugs business and less so about the legitimate, taxable horse riding sector.
Of course, his diligent and scrupulous work led to only one thing – dismissal. He lost his job on the government committee. If you're not going to toe the white line, it's risky being a government advisor.
Interestingly, his method for comparing the risks of such different activities was not questioned. As you'd expect from a professor at a world-leading university, he'd used a robust and transparent statistical approach to rank the different recreations according to their safety.
Which brings us to our own favourite pastime.
Bikes
The hazards of cycling haven't been weighed against those of recreational drugs, although there has been at least one published study in which academics measured how much alcohol cyclists could drink before they fell off.
That's an experiment for which there are too many volunteers every weekend and need not concern us today. So, let's cut to the chase.
We're here because three researchers wanted to compare the injury risks of cycling with a handful of other everyday activities. Not an easy thing to do and it needed to be based on a proven method.
The method they finally chose was, they said, the same one that David Nutt had used for assessing the relative risks of recreational drugs.
It's a robust statistical approach but, not being a robust statistician, I approached Prof Nutt to make sure the cycling safety researchers weren't pulling a fast one. He kindly looked at their paper and quickly confirmed that they "seem to have used the right approach".
With the method nailed down tight, they chose five other activities with which to compare the safety of cycling.
The other activities they chose are often perceived as being either far safer or even utterly innocuous. What do you think? Which of these is safer than cycling?
• Do-it-yourself (DIY) home improvements
• Horse riding
• Quad biking
• Rugby Union
• Snow sports
The three researchers set out to answer that question because they reckon people are deterred from cycling because it's commonly thought to be dangerous: "The reason most frequently given for not using bicycles is the fear of injury," they say.
Fair enough. You're not going to put yourself in harm's way if you can avoid it. Unfortunately, most people don't know which way harm lies. They think they do but they don't.
Ignorance worldwide
This kind of folk ignorance leads to all sorts of unfounded anxieties. In South Korea it's commonly believed that if you leave a fan switched on in an enclosed room you will die in there. Ukrainians avoid sitting on cold concrete in case it makes them sterile. Peruvians expect to catch cancer from open fridges.
And naïve people all over the world think that cycling is too dangerous to contemplate. Are people right to be so scared?
The three researchers, Michael Chieng, Hakkan Lai and Alister Woodward, decided to find out.
Being academics in New Zealand, they put South Korean fan death, Ukrainian sterility and Peruvian cancer to one side so they could concentrate their resources on cycling risks in their home country.
To be able to compare the risks of different activities they needed something they could quantify that was common across the range, because "Danger" is not actually a scientific unit like centigrade or kilograms. They decided that every time a participant suffered a moderately severe injury it was worth counting.
Getting a splinter when putting up a shelf, being hit on the nose by a snowball and being nuzzled aggressively by an Arabian stallion wouldn't figure. It would have to be an injury that requires you to visit ER (disappointingly that stands for a hospital's Emergency Room, not Queen Elizabeth II).
It's the kind of hurt that makes you eligible to claim on New Zealand's accident compensation insurance scheme.
Activity injuries
With that definition nailed they found a whole raft of published data that included relevant numbers for injured cyclists, DIY home improvers, horse riders, quad bikers, rugger buggers, skiers and snowboarders).
These are common activities in New Zealand for which data existed already about the injuries and insurance claims. They also estimated how often and how long people were doing them.
Now, looking back to the question above, here's where you'll find out if you were right.
The three researchers counted carefully and concluded that cycling is safer than DIY, horse riding, skiing and rugby. As Professor Nutt wrote to me, they are "results quite reassuring for cyclists!"
The only one of their selected activities that's safer than cycling is quad biking. All the others are more likely than cycling to land you in hospital, putting on a brave face and hoping it won't hurt for much longer.
They're smart with statistics so they've got the numbers to prove it. The collected data are not for sports cyclists or mountain bikers but for people who would take a 30 minute ride three times a week.
It's the kind of cycling, in fact, that someone who thinks it's too dangerous could feasibly enjoy if only they weren't too frightened by their own ignorance of the facts.
The numbers show that:
Cycling is between 1.2 and 2.2 times safer than doing DIY.

Cycling is between 1.3 and 5.3 times safer than horse riding for 90 minutes a week.

Cycling is between 60 and 140 times safer than skiing for half a day, four or five times a year.

Cycling is between 460 and 530 times safer than playing a game of rugby every three weeks.
Spread the word
There. Tell that to your local hospital management team so they can advise their communities to stop doing DIY, riding horses, skiing or playing rugby and, instead, take up cycling.
Of course, it's a little bit more complicated than that and the researchers are upfront with the limitations of their study.
It "should be treated as no more than a guide to risk relativities" they say. They've not allowed for the effects of variables such as the age and gender of participants in the different activities and they haven't included fatal injuries in their threshold for danger.
On the other hand, they've also not accounted for any health benefits, for which cycling is renowned.
And it's interesting that another study, done in Finland more than a decade before, also found cyclists suffer fewer injuries than most sports per hour of activity. Only walkers, swimmers, dancers and golfers escape more lightly. All others, including those who merely work out in the gym, get hurt more often.
So how should this work by the three New Zealand researchers affect cycling? It should be used to dispel the perception that cycling is dangerous. It should be used positively to help people overcome their misplaced fears so they can enjoy cycling.
It should be used to encourage your city council to build as many cycle lanes as possible.
If this was interesting, please share it with friends.
You can subscribe for more. It's free.
Kind and polite comments are welcomed, even if you disagree.
---
On the shoulders of giants
How dangerous is cycling in New Zealand? is by Michael Chienga, Hakkan Laib and Alistair Woodward and has been published in volume 6 of the Journal of Transport & Health in September 2017
---
More
For very short tweets about new science and cycling, follow @CyclingScience1